Miele Octoplus Range
The Miele Professional Octoplus range of 8 - 10kg washer extractors and 8 - 15kg tumble dryers fulfil the demands of the most diverse operators with the utmost in quality, flexibility, product utility and responsibility.
8kg Capacity
The 80-litre washer-extractor and tumble dryer drums offer ample space for an 8 kg load, as well as the right conditions for thorough, gentle and fast laundry care.
The PW6080 and PWT6089 both have a 1300 rpm final spin achieves a residual moisture content of only 49%.
With a heat output of 8 kWh, the PT7186 and PT7189 dryers are the perfect supplement for fast laundry care.
Profitronic L Vario controls facilitate customised programme selection allowing machines to adapt flexibly to the needs of commercial users.
Placing washing machines adjacent to tumble dryers poses a problem wherever space is limited or niches are extremely small in size. Here, with the new washerdryer (PWT6089/PT7189) and dryer-dryer (PT7189/PT7189) stacks from the Octoplus generation, Miele Professional is providing the ideal solution for approx. ½ m² of space.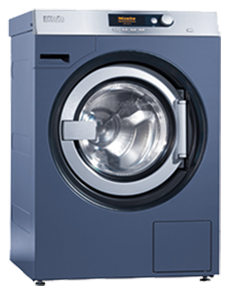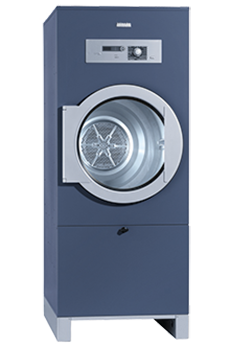 10kg Capacity
Offering a large drum opening for simple loading and unloading, the 100 litre drum volume for 10kg laundry ensures reliable washing results.
With their compact dimensions, the PW 5105 washer-extractor and the PT 8303 SlimLine tumble dryer can be combined to form a perfect duo. The slim construction opens up new possibilities, especially where the appliances are to be installed in locations with limited space.
12 - 15kg Capacity
A slim build with 300l drum for 12- 15kg load capacity means huge perfromance, whilst higher air throughput and intelligent air flow achieve fast drying.
Thanks to their compact size, the new slimline dryers are particularly suited to applications where space is at a premium with insufficient room to install a bigger dryer.
Tumble dryers from the slimline generation are available as gas or electrically heated versions.
Miele ironers
Miele flatwork ironers are just the job for a perfect finish. Perfectly laundered textiles create a good impression, especially in cases where there is a high demand for a well-kept appearance.
From the HM 16-80 fold-away rotary ironer with a roller length of 830mm, to the HM 21-140 flatwork ironer with a roller length of 1395mm, Miele offer the perfect finishing solutions to the Octoplus range of washing machines and tumble dryers.
Miele Octoplus machines
Washing Machines
Miele PW5105
10kg Capacity
1100rpm max Spin Speed

Miele PWT6089
8kg Capacity
1300rpm max Spin Speed

Miele PW6080 Vario
8kg Capacity
1300rpm max Spin Speed

Tumble Dryers
Miele PTT7189 Vario
8 (x2)kg Capacity
Vented System

Miele PT8303
12- 15kg Capacity
Vented System

Miele PT7186 Vario
8kg Capacity
Vented System