Miele Little Giants Range
The new 6.5kg & 5.5kg LITTLE GIANTS represent the professional approach to a wide range of laundry-care applications. With new and innovative features, a rugged industrial design and user-specific care programmes, these machines are the ideal helpers in coping with huge amounts of laundry each and every day.
PROFESSIONAL Series
The focus in the PROFESSIONAL series is on the range of users and laundry-care applications. An extremely simple user interface is required on machines used by casual users or where staff fluctuates. Offering a large selection of special and add-on programmes, the PROFESSIONAL series meets the most demanding requirements in commercial laundry care. Fixed wash temperatures and spin speeds are assigned to each programme but can be modified within reason.
The special hygiene programmes on models from the PROFESSIONAL range meet the disinfection requirements in critical areas such as clinics, surgeries and nursing homes. The individual adjustment of wash parameters and the option of connecting to liquid dispensing systems caters for applications at dry cleaners and commercial laundries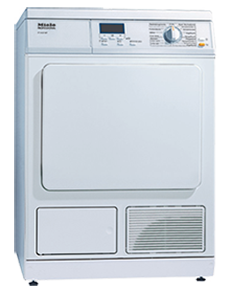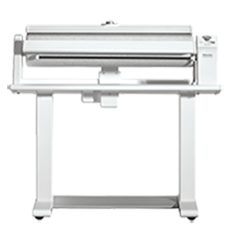 Healthcare applications
Dump valve drain versions feature two sluice and thermal disinfection programmes meeting Department of Health guidelines HSG (95) 18, and conform to the requirements of The Care Standard Act 2000.
PROFITRONIC L Vario Controls
PROFITRONIC L Vario controls allow washing machines and tumble dryers to adapt flexibly to commerical users' needs. In 'Standard' mode, the user has access to all programmes from the selected target-group programme packages. Four programmes can be saved to the directaccess keys for quick selection. Other programmes can be accessed by selecting 'Further programmes'. The option of modifying programmes and programme parameters, e.g. temperatures, spin speeds, pre-wash, etc., to suit individual needs makes this control set particularly flexible. Further modes can also be configured.
Optimum laundry finish
Miele rotary ironers are just the job for a perfect finish on workwear and table linen: simple, fast and economical. Alongside guaranteeing a perfect finish, rotary ironers are above all simple and safe to use. Roller speed is infinitely selected using a rotary selector. Roller rotation can be stopped at any time by pressing the footswitch.
Miele Little Giants machines
Washing Machines
Miele PW5064
6.5kg Capacity
1400rpm max Spin Speed

Miele PW6055 Vario
5.5kg Capacity
1400rpm max Spin Speed

Miele PW6065 Vario
6.5kg Capacity
1400rpm max Spin Speed

Tumble Dryers
Miele PT5137 WP
6.5kg Capacity
Heat Pump System

Miele PT7135C
6.5kg Capacity
Condenser System

Miele PT7136 Vario
6.5kg Capacity
Vented System

Ironers
Miele HM16-80
Folding frame with steam facility design
830mm Roller length

Miele HM16-83
Rigid frame, return feed operation design
830mm Roller length